The idea of categorizing lingerie looks or personas came to me when I was giving my Pinterest boards a spring clean a couple of years ago. I had one board called
'Lingerie'
which was literally bursting at the seams with lingerie images. To me it all seemed a bit cluttered and it was not easy for me to find my favourite images or links because there were just that darn many of them. I found when I scanned through the images there were certain images that tied together, I couldn't quite put my finger on why but I soon started to split the one
'Lingerie'
board into four. The four boards, to me, depict four strong lingerie themes relevant in lingerie today:
The Classic Seductress, The Fashion Forward, The Retro Siren
and
The Romantic.
The Classic Seductress:
Think lace, suspenders, seamed stockings and heels. The lingerie featured on this board is sultry but in a very demure and timeless fashion. Black lingerie features predominately on this board for its classic status in lingerie and of course its wearability. Like a classic LBD (Little Black Dress) there is just something so sophisticated about black lingerie. The looks created through this lingerie theme are powerful, sultry and classic - all at the same time.
La Perla Ardientemente Collection A/W 2013
Image Source: http://www.laperla.com/uk/fall-winter-collection-2013/ardientemente-collection.html
The Fashion Forward:
This is my favourite board because it encompasses by far my favourite lingerie looks and imagery. The lingerie featured has strong connotations of catwalk looks. Personally I love the freedom with colour, fabric, shape and overall playful nature. Brands I feature heavily here are Mimi Holliday (expect a review of a recent purchase on the blog very soon), Claudette, Agent Provocateur, For Love and Lemons and Princesse Tam-Tam. More often than not in this theme there are playful extras like bunny ears or lace eye masks to fashionista favourites like Olivia von Halle classic pyjama sets and Charlotte Olympia Satin Kitty Slippers and eyemask sets. The looks created through this theme of lingerie are playful, fun and fashion forward.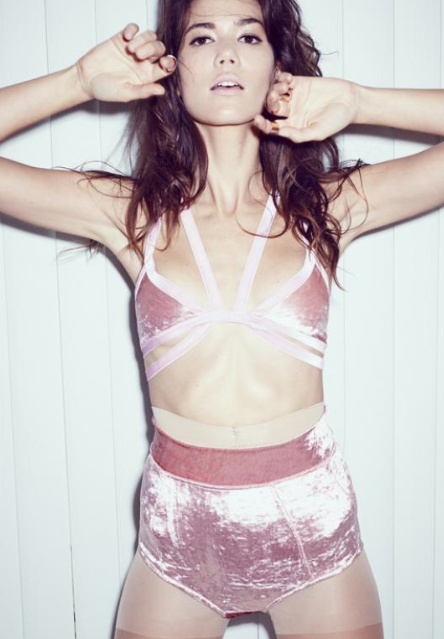 For Love and Lemons 'Skivvies' Collection A/W 2013
Image Source: http://www.thelingerieaddict.com/2013/11/love-lemons-skivvies-collection-aw-2013.html
The Retro Siren:
Think corsets, pin-curled hair and showgirls. The Retro Siren incorporates all vintage and vintage inspired pieces. The silhouettes become nipped in at the waist with the help of waspies and corsets and detailing becomes extravagant in the form of feathers, ruffles and trims. With connotations of burleseque and showgirl attire, colours are a mixture of softer hues and bright colours but all with a luxe undertone created through the vast use of satins and silks. The looks created are daring but in a bashful, tongue in cheek sort of way that create a playful edge to them.
Von Follies by Dita Von Tesse
Image Source: http://froufroufashionista.blogspot.co.uk/2013/07/von-follies-by-dita-von-teese-now-at.html
The Romantic:
In this board the lingerie becomes softer and more delicate. Think crisp whites and pastel hues on soft cottons and chiffons. The silhouettes becomes softer and more blurred and there is a light, weightless feel to this theme, much more relaxed than any of the others. The detailing on the pieces within this theme give it a delicate and romantic nature. There is beading, embroidery and lace edges that add a romantic appeal. I personally love the carefree nature of this theme, there is something so relaxing yet aesthetically pleasing about the lingerie that it just makes you want to wear it as you lay in bed drinking your morning coffee and reading your favourite book.
Sally Jones Lingerie - Pearl
Image Source: http://www.sallyjones.com.au/pearl
I have found these four boards to be inspirational to me especially when shopping, trying to create a different look or find brands that I love. I hope the boards become an inspiration for you all too. Come along and follow me on Pinterest at
http://www.pinterest.com/unpublishedgirl
/
Speak soon,
Claire x